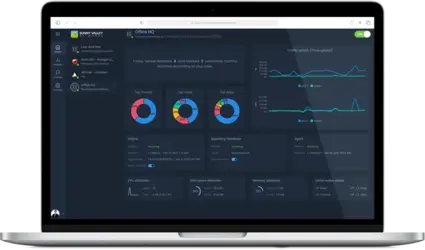 Introduction:
In an increasingly digital world, network security is paramount. With the constant evolution of cyber threats, securing your network environment is no longer a luxury but a necessity.
Zenarmor Next Generation Firewall - The Game Changer:
Meet Zenarmor Next Generation Firewall, the game-changer in network security. This cutting-edge firewall solution is designed to tackle the ever-growing challenges of cybersecurity head-on.
Zenarmor's lightweight and powerful, appliance-free technology allows organizations to launch instant enterprise-grade firewalls on demand and easily secure environments as small as home networks or scale to multi-cloud deployments.
Packet inspection core is powerful enough to protect against encrypted threats while also being so lightweight and nimble that it can even fit in very resource-constrained environments.
Instant Security Anytime, Anywhere:
Zenarmor Next Generation Firewall introduces the concept of "Instant Firewalls." In today's dynamic, interconnected networks, traditional security measures no longer suffice. Zenarmor Next Generation Firewall provides instant security, adapting to the evolving threat landscape in real-time.

Zenarmor is the industry's first all-software technology providing unique deployment agility:
- Industry's Best Cloud Management for Easily Managing Firewalls Across Multiple Locations
- All Software Architecture. Use Hardware of Your Choice While Upgrading and Scaling Your Network. No HW lock-in.
- Zenarmor includes the industry's most advanced network analytics capabilities at no additional cost.
Key Features of Zenarmor Next Generation Firewall: 
ZERO-LATENCY SECURITY STACK
Deploy zero-latency security without backhauling data packets back and forth between POPs and datacenters.
Zenarmor's single-pass architecture processes packets once and for all security controls.
The same security stack runs whenever deployed for an unprecedented level of consistency when applying security policies.


PREVENT EVASIVE THREATS WITH TLS INSPECTION
Unlike superficial filtering tools (e.g. dns filtering), Zenarmor Is equipped with a powerful Layer7 Enterprise-grade content filter technology allowing you to employ sophisticated security mechanisms capable of detecting and blocking malware and threats which utilize advanced evasion techniques, stop bad guys from abusing encryption.
Enable certificate-based or Full TLS inspection to protect against encrypted threats.


GET REAL-TIME PROTECTION AGAINST ADVANCED ZERO-DAY ATTACK CAMPAIGNS
Realize the power of Al-based Cloud threat in­telligence. Stop zero-day malware and phishing attacks in real-time. Detect and block new Botnets in an instant.
Leverage Deep Content Inspection to prevent evasive threats that otherwise would bypass IP, port and DNS based filtering.
BLOCK HARMFUL CONTENT WITH PARENTAL CONTROLS
If you're a homelab user, set the rules for for your kids' screen activity.
You can block sites like YouTube, TikTok, HouseParty (and many more) across all your family's connected devices.
Schedule offline time in advance so you can enjoy family time, make time for homework or let kids finish their chores distraction-free.
Cloud-based management provides super-easy management for anyone at home or on-the-go.
IMPROVE BUSINESS PRODUCTIVITY WITH APPLICATION CONTROL
Block and control unauthorized or misbehaving applications with Application Control.
EASILY TAKE CONTROL OF YOUR NETWORK WITH POLICY BASED WEB FILTERING
Apply Security policies for more than 300 Million web sites under 60 different categories.
MANAGE FROM EVERYWHERE
Easily manage all your firewalls from the Cloud and in a single pane of glass. Create centralized, location independent policies. Enforce them across all IT
environments. Share your firewall management with your team.


ALWAYS BE IN-THE-KNOW WITH INDUSTRY'S BEST REPORTING
Utilize industry's best network reporting. Be on top of everything that's going on your network. Create scheduled reports that deliver a clear picture of what's happening across your networks.
Delegate reporting on a need-to-know basis.
- Visualize your network in real-time
- Start from the big picture; drill down to per-connection details
- Spot anomalies visually as they occur
- Always stay up to date with daily/weekly security reports.
Supported Platforms
Zenarmor is currently available for:

OPNsense® (OPNsense 19.x - 23.x, fully integrated into the OPNsense WebUI)
FreeBSD® (FreeBSD 11,12,13)
Ubuntu Linux (Ubuntu 18.04 LTS, 20.04 LTS, 22.04 LTS)
CentOS Linux (Centos 7, 8)
Debian Linux (Debian 10, 11)
pfSense ® software (pfSense ® software 2.5.x-2.6.x)
AlmaLinux (AlmaLinux 1)
Rocky Linux (Rocky Linux 9)
RedHat Enterprise Linux (RHEL 8.5-9)
Amazon Linux (Amazon Linux 2)
Zenarmor deployments on all Linux platforms as well as on FreeBSD-based firewalls can be managed together and seamlessly from the same pane of glass: Centralized Cloud Management Portal

Zenarmor can deploy onto any Cloud environments either as a gateway or on a per-server basis.
Benefits for Businesses and Individuals:
Zenarmor NGN Firewall benefits both businesses and individual users alike. Businesses can enjoy robust protection for their networks, while individuals can have peace of mind knowing their personal data is secure.

No HW Lock-In, all software architecture. Use Hardware of Your Choice while upgrading and scaling your network.
 Zenarmor Hardware Requirements for OPNsense Firewall:
| Active Devices | Maximum WAN Bandwidth | Minimum Memory | Minimum CPU |
| --- | --- | --- | --- |
| 0 - 50 | 300 Mbps | 1 GB | A Dual-Core CPU (x86_64 compatible, single core PassMark score of 200) Note: Deciso A10s and AMD G-SERIES SOC GX Series, Protectli/Qotom Celeron J Series are compatible |
| 50-100 | 500 Mbps 10 Kpps | 4 GB | Intel Dual-Core i3 2.0 GHz (2 Cores, 4 Threads) or equivalent |
| 100-250 | 1 Gbps 20 Kpps | 8 GB | Intel Dual-Core i5 2.2 GHz (2 Cores, 4 Threads) or equivalent |
| 250-1000 | 1-2 Gbps 40 Kpps | 16 GB | Intel Dual-Core i5 3.20 GHz (2 Cores, 4 Threads) or equivalent |
| 1000-2000 | 1-2 Gbps | 32 GB | Intel Quad-Core i7 3.40 GHz (4 Cores, 8 Threads) or equivalent |
| 2000+ | 2-4.5 Gbps | 64GB | Intel Quad-Core i9 3.0 GHz (24 Cores, 48 Threads) or equivalent |
Mini PC Running OPNSense and Zenarmor
10GB SFP/SFP+  4x2.5GB Firewall Micro Appliance
Zenarmor's software defined architecture frees you from any kind of dependency on expensive hardware. You can simply use the off the shelf hardware or a MINI PC to deploy Zenarmor and easily upgrade the product as you go by simply reallocating the NGFW licenses
Conclusion:
In a world where cyber threats are constantly evolving, Zenarmor delivers instant enterprise grade network security specifically designed for agility and efficiency by deploying in seconds on hardware you prefer. With its Al and ML based Threat Intelligence covering over 300M sites, Zenarmor brings industry leading cybersecurity protection to your network in an instant.
Optional Cloud-based management allows you to easily create and manage granular access policies. – explore Zenarmor Next Generation Firewall today and fortify your network against the unknown.
Call to Action:
Ready to experience the era of instant firewalls with Zenarmor Next Generation Firewall? Feel free to contact us at info@macktechbiz.com and ask for assistance getting your free trial setup and start today. We'd love to hear from you! MackTechBiz is an Official Philippines' Partner of Zenarmor.
---