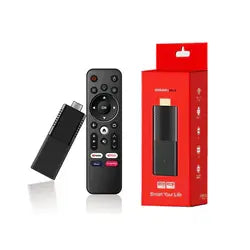 When it comes to choosing an Android TV box, there are a few things you need to keep in mind. With so many different models and brands on the market, it can be tough to know which one is right for you. Here are the top 5 factors to consider when choosing an Android TV box:
Price: Obviously, you want to find a box that fits your budget. There are a lot of great options out there, so take your time and find one that's affordable. 

Size: You'll also want to think about the size of the box. You might want to go with a smaller box if you have a smaller TV. Conversely, if you have a larger TV, you might want to get a bigger box.

Type: There are two main types of Android TV boxes: sticks and boxes. Sticks are smaller and more portable, while boxes are bigger and usually have more features.


Features: When it comes to features, you'll want to consider what you want to use your box for. Most boxes allow you to stream movies and shows, but some may offer more advanced features such as gaming capabilities or the ability to stream content from your phone. Be sure to read up on the features of each box before you buy.

Specification: Before making a purchase, you'll want to ensure that the box you're buying is compatible with your TV. Check to see if it has the necessary inputs and outputs for your TV. Also, take a look at the processor and RAM to make sure it's enough for your needs.

Operating system: All Android TV boxes run on the Android operating system, but there are different versions available. The most up-to-date version is Android 13 ( as of this writing), but some boxes are still running older versions. Be sure to check the version before buying.

User Interface: The user interface is an important part of the Android TV box experience. Choose a box with a user-friendly interface that makes it easy to access your favorite apps and shows.

Apps and Games: You'll also want to make sure that the box you choose has access to the apps and games you're interested in. Some boxes have access to Google Play, while others have access to specific app stores.
Finding the right Android TV box can be difficult, but it's worth it once you find the perfect one. Consider all the factors mentioned above to make sure you're getting the best box for your needs and budget. Take your time and do your research, and you should be able to find the perfect box. If in any case, you find everything difficult just give us a call/message and we are always here to assist you.
---