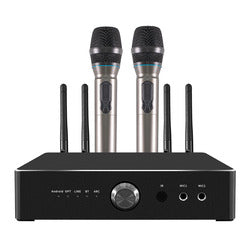 Introduction
Karaoke has become a popular form of entertainment, allowing people to unleash their inner diva and sing their favorite songs. With the advancement of technology, traditional karaoke systems have evolved into Android Karaoke Boxes, providing a seamless and immersive karaoke experience. In this article, we will explore the world of Android Karaoke Boxes and how they have revolutionized the Karaoke scene.
Benefits and Features of Android Karaoke Box
Android Karaoke Boxes offer a range of benefits and features that enhance the karaoke experience. Firstly, their versatility and convenience make them stand out. Running on the Android operating system, these boxes allow users to access a multitude of applications, turning their TV screens into karaoke machines. This means you can enjoy karaoke in the comfort of your own home without the need for bulky equipment.
Another significant advantage is the vast selection of songs available. Android Karaoke Boxes provide access to extensive song libraries, covering various genres and languages. Additionally, they often offer customizable playlists, enabling you to create personalized collections of your favorite tracks.
Furthermore, the audio and visual experience on an Android Karaoke Box is top-notch. These devices support high-definition video playback and boast powerful audio outputs, ensuring that every note and lyric is crystal clear. Some models even include interactive features like on-screen lyrics and vocal effects, adding an extra layer of fun to your karaoke sessions.
How to Choose the Right Android Karaoke Box
When selecting an Android Karaoke Box, several factors should be considered. Firstly, ensure compatibility with your existing devices and equipment. Check if the box supports the necessary connections to your TV and sound system. Additionally, look for a model with ample storage capacity or expandability options, as you'll want to store a substantial collection of songs and most importantly a built-in amplifier with a Home Theater Audio System.
Another crucial aspect is internet connectivity. Opt for a box that offers reliable Wi-Fi or Ethernet connectivity to access online karaoke platforms and streaming services. This will allow you to expand your song choices and stay updated with the latest hits.
Setting Up and Using an Android Karaoke Box
Setting up an Android Karaoke Box is a breeze. Begin by connecting the box to your TV and audio system following the provided instructions. Once connected, navigate through the user-friendly interface using the included remote control or smartphone app. Access the app store, download popular karaoke applications, and explore their song libraries.
To enhance your experience, familiarize yourself with the various features offered by the karaoke apps. Many apps provide vocal effects, such as echo and reverb, allowing you to add your unique touch to the songs. Additionally, some apps have built-in scoring systems that rate your performance, making karaoke nights more competitive and engaging.
List of Free Karaoke Apps
Here are some popular free karaoke apps that you can use with your Android Karaoke Box:
SingPlay: SingPlay is a versatile karaoke app that allows you to sing along with your favorite songs from your music library. It automatically converts songs into karaoke versions by removing the vocals, giving you the opportunity to be the star of the show.

Yokee: Yokee offers a vast catalog of songs across various genres, including pop, rock, R&B, and more. The app features lyrics on-screen and offers recording and sharing capabilities, so you can capture your performances and share them with friends.

Smule: Smule is a popular karaoke app that brings people together through music. It offers a vast community of karaoke enthusiasts and allows you to sing duets with artists or other users. The app features a wide range of songs and provides real-time vocal effects to enhance your performance.

Red Karaoke: Red Karaoke offers an extensive collection of karaoke songs in multiple languages. The app provides synchronized lyrics and allows you to record your performances. It also features a social aspect, where you can join online karaoke parties and connect with other singers.
Remember to explore these apps, read reviews, and choose the one that suits your preferences and song selection.
Tips for Maximizing Your Android Karaoke Box Experience
To make the most out of your Android Karaoke Box, consider these tips. Firstly, create personalized playlists and favorite song collections to streamline your karaoke sessions. Organize songs by genre, artist, or mood to quickly access your desired tracks.
Furthermore, take advantage of advanced features. Experiment with vocal effects to add depth and richness to your singing. Additionally, connect additional audio and video peripherals, such as microphones and external speakers, to enhance the overall sound quality and stage presence.
Don't forget to share your karaoke recordings and performances on social media. Many Android Karaoke Box apps allow you to record your sessions and share them directly with friends and family, spreading the joy of karaoke beyond your living room.
Conclusion
Android Karaoke Boxes have revolutionized the way we enjoy karaoke, offering convenience, versatility, and a vast selection of songs. By choosing the right box, setting it up correctly, and exploring the various features and maintenance options, you can elevate your karaoke nights to new heights. So, gather your friends and family, pick up the microphone, and let the Android Karaoke Box take center stage in your entertainment repertoire. Get ready to sing your heart out!
---